Face to face and On-Line Psychotherapy
Basada en los conceptos de la Psicología Transpersonal
Face to face and On-Line Psychotherapy
Página en blanco
This site is an invitation to engage in Integral Psychotherapy whether in a private office, or on-line, either using Skype or through written therapy. The latter is a method which allows you to carry a diary shared with your therapist, who will write back on a daily basis.
Please use our Contact Form if you wish to ask for consultation
Inset Work-shop at Northlands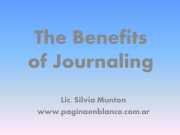 Within the framework of Northlands educating Northlands workshops given on Friday 12th February in Olivos, I offered a talk on the benefits of journaling to enhance learning and personal development within the school curriculum
Teachers who encourage journaling within the curriculum will form a team for research on the subject. Gladly will we inform future results of the experience undertaken in 2015. ...
752 views